Nina left a message on my mobile, it was not clear. I am on skype with her. Rasa is declining in health - though she seems to pluck up somedays. However, Megabyte, the close cat-mate (they became closest friends after Devi passed as Megabyte was very close with Devi), was put to sleep on my birthday (as I was celebrating in LA). It was always felt they would go together. Nina says she's put the vet on alert if Rasa really declines and the kidney ceases, etc. It could be in next couple of days or next 10 days: only Rasa knows (and the Spirits yonder waiting to receive). (Could we have the image of Rasa scanned where she looks like a Herculean goddess? We can circulate that later)
I did in a way say my *good-byes* when I was in Melbourne (to both Meg and Rasa). It would be wonderful if one, two, three, four of you could go and say your goodbyes on behalf of all from *our* side who loved Rasa (met Megabyte and Lucky in Noah's Ark), sprinkle some water on her tongue, do waving of arati lamp, circle an incense: Devi and Rasa were/are Avataars among the canine kind on good earth. Nina is quite open to this; she'd like Damyanthi to ring and make time for the visit (Friday evening after work could be fine).

Kaddish as it evolved at ritual for last rites for Devi (Sept 2009)
( also on video at: .http://purushbilimoria.blogspot.com/2009/10/latest-updated-edition-of-dog-devi.html;
snippets, clippings in previous page: Grief of Dog Face) (this is an edited transcript from the video, apologies to the latter-day disaffected, by no names).--------------
Berkeley Modern-Posts
FOUND DOG
Black Lab, white underbelly, curly tail
Seeking owner, howls at night
Well taken care of, strayed into
Spruce & Arch Streets, Cal-Berkeley
Call: Jerry O'Garcia 1-008-SUBALTERN
Will return by UPS-VET (F.O.B)
FOUND GOD
White male, black underbelly, hairy tale
Seeking disciples, hysterical by day
Kept unkempt, wondered into
Euclid & Cedar Avenues, North Berkeley
Call: Faristha O'Gibreal 1-008-OBO ONO
Will return by FedExp-SKY (C.O.D)
[circa 1995-6]
----------------------------------
Devi was an old, old, old, soul; been around many times before. I'm inclined to believe that she transcended up the hierarchies this last time and is free forever more... Love On, Devi... Love On..... [SPW]
------
September 19, 2009
Dear Professor Purushottama Bilimoria Ji,
Our family is shell shocked to know about the final sojourn of Devi. We were emotionally attached to both Devi and Rasa ever since you and Renuka Ji were narrating to us for more than a decade about their supra mammal nature akin to realized human souls . As Hindus we believe in the Doctrines of Karma and Rebirth and our family is confident that Devi will not have rebirth as she was associated with great souls such as Renuka Ji and you who have imparted all the positive spiritual energies to her. Devi would join Ms Renuka Ji who is blessing us some where from the heaven.
We pray in the Almighty for the safe passage of Devi and also pray in Him for strength and courage to be bestowed on to you for overcoming this melancholy.
In fact Ms Veena and Chidu told me over phone ( while I was returning from Badarinath) that on Thursday they were again watching videos and photos of Devi and Rasa and had all praise for the godly dogs nurtured by you so well. Ms Veena also told me that she wanted to enquire about Devi and Rasa when you had called up but restrained herself as your time was very precious and busy with academics as ever.
We pray here tomorrow for her final sojourn and peace.
With best regards,
Sridhar M. K.
Ms Veena Sridhar
Chidananda Sridhar
Bangalore, India.
Dear Purushottama,
I'm so sorry to hear the sad news about Devi. I remember so fondly what a warm little companion she was while I was at your house, lying around coughing, and what fun it was to run with her on the beach. She has indeed been a wonderful, sympathetic dog.
With sympathy,
Kathleen
Dear Purushottama,
Please accept my deep condolences at your loss. I remember with great pleasure my time in Melbourne and Venus Bay with the dogs and Devi's affectionate and trusting nature. I remember in particular feeding her and Rasa and the genial look she gave me, as if to assert that all was well with the world.
I trust the quoted sentence from Derrida contains a typo and properly reads, "there shall be mourning." That is what he publicly did on many occasions, notably at the death of his teacher, Levinas. ( see the touching memorial to him in Critical Inquiry). Mourning the dead is one of the most human and humane acts available to us.
In sorrow,
Puruzi, I was very saddened to received your news. Only two days ago I was walking with a friend and a silky dog very much like Devi, ran up past me mischievously, almost tangled in my feet, I looked at the dog smiled and thought to myself that is what a younger Devi would have looked like. Strangely she was on my mind that day. "There shall be no mourning", I'm grateful for the loving cuddles and warmth I received. Thanks for letting me know. I will light a candle tomorrow and fare thee well……….
Love, xx P
I've been cleaning the house reminiscing. Devi, how much she loved you, how close to human she was. How full of mischief, just like you! I also know that despite the brave face of your very rational email, you would be hurting, deeply. A big warm hug to you where ever you are, x P
-------- Dear Purushottama,
What can one say when a loved one goes away. The grief and pain has to be borne and much as friends and family want they can only offer comfort with a hug or a kiss. You have to bear this on your own and hope that on moving forward you will find solace in love from other quarters. Thinking of you with affection and grief.
Babu and Dibi [Bangalore]
--------
I was so incredibly saddened to get your text about Devi... I knew when I was there this last time that I probably wouldn't see her again, so I had a private ritual with her before saying my final goodbyes. Feel me with you tomorrow as you have to bear yet another loss of a beloved, and know that my arms are wrapped tightly around you. Whisper in her ear that I am thankful for all the love she gave to me and ..., and most importantly all the love that she gave to you after Renuka's passing... she and Renuka will share some good laughs together again, I have no doubt. And please give my love to Nina as well, who is now dealing not only with the impending loss of her mom, but now Devi as well; so sad.


ahhh, you just texted me... was going to inquire how rest of your day going and how you feeling about everything. I'm at least glad to know that you are there for her passing; would have been awful if it happened next while while you were here. She wanted you to be part of her transition; I am sure of that... Renuka came to get her before you came here... I will be with you tomorrow... feel me holding you as you hold Devi in her last moments.
[Marin]
-------------
HAN NYA SHIN GYO
Kaddhish 1956 _Ginsberg
Strange now to think of you, gone
without corsets & eyes, while I
walk on the sunny pavement of
Greenwich Village.
Downtown Manhattan, clear
Winter noon, and I've been up
All night, talking, talking,
reading the Kaddish aloud,
listening to Ray Charles blues
shout blind on the phonograph
the rhythm the rhythm – and your
memory in my head three
years after – And read
Adonais' last triumphant
stanza aloud – wept, realizing
how we suffer –
And how Death is that remedy all
Singers dream of, sing,
Remember, prophesy as in the
Hebrew Anthem, or the
Buddhist Nook of Answers –
And my own imagination of a
withered leaf – at dawn –
Dreaming back thru life, Your
Time – and mine accelerating
Toward Apocalypse,
the final moment – the flower
burning in the Day – and what
comes after…
(Allen Ginsberg, 'Kaddish' 1956)
Since time began
the dead alone know peace
Life is but melting snow
(Haiku by Nandai)
GYA TE GYA TE HA RA GYA TE HA RA SO GYA TE BO DHI SO WA KA
gone, gone, to the other shore gone, reach (go) enlightenment accomplish.
No Worries Mate Murray of Venus Bay, passed circa November 2011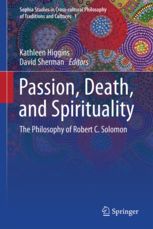 Tagore from Gitanjali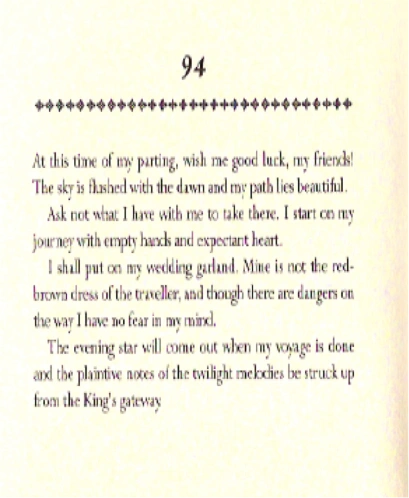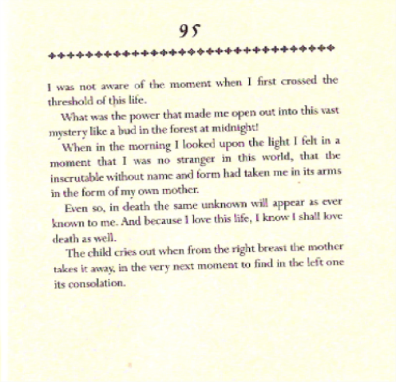 Crimson Horizons

The walls now melt in naked aloneness
like mirrors reflecting back sky-loads of pain,
ceilings above pelt down tears of rain, the clouds outside set ablaze in fire..
I too have seen mir/im/ages of such forebodes
in my diminished nights of infinite resignations;
these have haunted me across three continents,
and they still cometh in my unending dreamers.
[PB Feb 2012, Bellam Road, San Rafael waters]
===========Whistles of the Soul
'There night is day
and day is night';
why does the full-moon ray shine,
yet dimly, in day time,
and the sun eclipsed by Mar's mauve hues?
Two lonesome swans paddle on the still water,
no-else life in sight; even emptiness has flee-d;
'cos night is darker than darkness could imagine,
there is that, there is fire
next moment 'tis chillness of ice,
smokey trails carving their way
through chakras and pranic nadis;
is there an end in sight to the bardo descents
into the soul, past heart-mind & intellect?
'tis as if it's absent when reaching its sanctuary,
or the soul becomes a ball of splashing seaweeds
entangling colors of flora and weeping corals
in the seabed of endless time;
the hour-hand ticking losses.
[Feb 2012, Bridge over Marin County)

A New Dawn Spirals Back
A new dawn is struggling to break through
from beyond the horizon of clouds
and sett[l]ing stars
the upside down crescent moon vanishing in the bay,
Ashwins' rays ahead of the sun bring blessings
from beyond
where our beloveds have taken rest;
perhaps they whisper in our ears,
perhaps they sing to our souls
the joyous glories of the mysteries and
manifestations of the immensely Unknown;
it is now they who may pray for us
left alone in our worlds
and conventional perceptions
the eternal return of the sacred;
each shall march on
in their own time
to the shorelines of travelers
the horizons of dancing stars,
to the rhythm of spiraling spangles;
whistling of the kettle boiling tea,

baby deer peering through window
cat scratching on the forlorn pillow,

near too, rustlings of the soul awakening,

eternity now running out of time,

and our Godman out of divinity.

(PB, Feb 2012, Bridge Over Marin County)

.-----------------



images of spiralling spangles at shop-front window exhibition on Mission (between 5th and 3rd Streets, en route Amber Indian restaurant in San Francisco; taken March 9, 2012. (Permission being sought to reproduce here).

-----------------
--Within You and Without You
We were talking-about the love we all could share-
when we find it
To try our best to hold it there-
with our love
With our love-
we could save the world-
if they only knew.
Try to realize it's all within yourself
No-one else can make you change
And to see you're really only very small,
And life flows ON within you and without you.
We were talking-
about the love that's gone so cold and the people,
Who gain the world and lose their soul-
They don't know-
they can't see-are you one of them
When you've seen beyond yourself-\
then you may find, peace of mind,
s waiting there-
And the time will come when you see
we're all one, and life flows on within you and without you.
--George Harrison
Moonlight Mile

When the wind blows and the rain feels cold with a head full of snow

with a head full of snow

In the window there's a face you know Don't the night pass slow

Don't the night pass slow

The sound of strangers sending nothing to my mind Just another mad mad

day on the road

I am just living to be lying by your side

But I'm just about a moonlight mile on down the road

Made a rag pile of my shiny clothes

Gonna warm my bones,

gonna warm my bones

I got silence on my radio

Let the air waves flow,

let the air waves flow

For I'm sleeping under strange strange skies Just another mad mad day

on the road

My dreams are fading down the railway line I'm just about a moonlight

mile down the road..

I'm just about a moonlight mile on down the road on down the road,

down the road.
-------------

The Poet Asks Forgiveness
BY FAY ZWICKY
Dead to the world I have failed you
Forgive me, traveller.
Thirsty, I was no fountain
Hungry, I was not bread
Tired, I was no pillow
Forgive my unwritten poems:
the many I have frozen with irony
the many I have trampled with anger
the many I have rejected in self-defence
the many I have ignored in fear
unaware, blind or fearful
I ignored them.
They clamoured everywhere
those unwritten poems.
They sought me out day and night
and I turned them away.
Forgive me the colours
they might have worn
Forgive me their eclipsed faces
They dared not venture from
the unwritten lines.
Under each inert hour of my silence
died a poem, unheeded
----------------------
Tagore's Grief.

[W]hen his school was barely one year old Tagore's wife died. He now wrote his beautiful poems
about children called The Crescent Moon.
The years between 1903 and 1907 were the sad ones for the poet. There were many deaths in the
family. He lost his second daughter, Renuka, his father, his youngest son, Shami, one after another. But
Tagore did not lose heart and continued to write beautiful works, he was now drawn more and more to
his motherland and became a leader of the movement for national liberation. It was about this time that
Tagore wrote his Gitanjali in Bengali, and also the famous patriotic hymn, Jana Gana Mana.
When Tagore was fifty he had a great output to his credit and had made Bengali literature hum with
excitement and exploration.He was hailed as the national poet of Bengali and on Jan. 28, 1912, a
commemoration meeting was held in Calcutta, in connection with his Golden Jubilee, to pay homage to
him.
As an escape from this exhaustion Tagore started translating into English some of his own lyrics and in
1912 when he reached London, he had a whole collection of the translations in his hands. There he
came into contact with many British writers and thinkers, specially W. B. Yeats and the artist
Rothenstein who inspired him to publish English translation of Gitanjali (in 1912, with Yeats'
memorable introduction) which won for him the Nobel Prize
for Literature in 1913. Henceforth he was not merely the poet of Bengal, but the whole of the world.
After success of Gitanjali many volumes of translations either done by Tagore or by others under his
supervision and even some original writings in English were published. Tagore now toured widely
visiting the countries of East and West.
Tagore did not involve himself too intimately into the political currents in India but he maintained very
friendly relations with Gandhiji and Jawahar Lal Nehru. Gandhiji visited Shantiniketan in 1915 and
was greatly influenced by him. The British Government had bestowed a Knighthood on the poet in
1915, but the poet renounced it in protest against the massacre of Jallianwala Bagh. In 1930 when the
news of Gandhiji's arrest reached Tagore, he was deeply distressed and called off the celebrations of
his seventieth birthday at once.
As the years passed, Tagore became more and more a legendary figure. In his flowing beard, and white
robes he looked rather a Rishi belonging to ancient India. Though Tagore was getting old and ill, till
his last he kept aloft the banner of faith in the future of mankind.
On the 7th of August, 1941 at the age of eighty in the old house at Jarosanki, he breathed his last. The
whole nation was plunged into grief and mourning. In Dr. Edward Thompson's words, "Not a man
only but an age had made its way at last into history. He had summed up in himself a whole age in
which India had moved into a modern world."
The Sublime Melancholia of Mourning
The Raven[1]
Ah, distinctly I remember it was in the bleak December,
And each separate dying ember wrought its ghost upon the floor. Eagerly I wished the morrow . . .
'Prophet!' said I, 'thing of evil! - prophet still, if bird or devil!
By that Heaven that bends above us - by that God we both adore
Tell this soul with sorrow laden if, within the distant Aidenn,
It shall clasp a sainted maiden whom the angels named Lenore –
Clasp a rare and radiant maiden, whom the angels named Lenore?'
Quoth the raven, 'Nevermore.'
'Be that word our sign of parting, bird or fiend!' I shrieked upstarting -
'Get thee back into the tempest and the Night's Plutonian shore!
Leave no black plume as a token of that lie thy soul hath spoken!
Leave my loneliness unbroken! - quit the bust above my door!
Edgar Allen Poe
[1] This sorely woody poem (excerpted here) describing Edgar Allen Poe's melancholia at loss of his beloved Lenore, was first published in 1845.